Water Color Hike
with local Delta artist Martha Esch
Friday, December 7
3:30 PM – 5:00 PM
Meet at the Lockeport Grill & Fountain
13959 Main St
Walnut Grove, CA 95690 (MAP)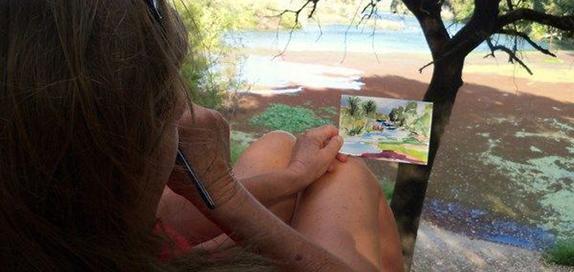 Join Martha on the first Friday of each month for a gentle hike and the opportunity to paint a postcard watercolor painting. Art supplies are available for all participants. A water bottle and a small snack are recommended. Visit the
event page
for more details. (Note the event page link may not work in Internet Explorer, try Chrome, Safari, or Firefox browsers)
Discovery Bay Parade of Lights
Lighted boat parade and party at the yacht club!
Saturday, December 8
4:00 PM – 10:00 PM

Discovery Bay Yacht Club 
5871 Marina Road 
Discovery Bay, CA 94505 (MAP)
Decorate your boat or just visit and watch the festivities! There will be a party at the Discovery Bay Yacht Club and nonmember boats that participate are welcome to the club after the parade. Register your boat online.
San Joaquin Yacht Club Lighted Boat Parade
Take a festive trip around Bethel Island!
Saturday, December 8
5:30 PM – 9:00 PM
San Joaquin Yacht Club
550 Riverview Place
Bethel Island, CA 94511 (MAP)
The public is welcome to enter a boat in the San Joaquin Yacht Club lighted boat parade. Make sure to keep and eye out for Santa & Mrs. Claus on board a yacht! The parade starts at the San Joaquin Yacht Club and goes around Bethel Island. Even if you don't enter a boat in the parade you can still come out and enjoy the festivities as the boats pass by! 
Email sanjoaquinyc@aol.com with any questions or to let them know you will be joining in the parade.
Antioch Dunes National Wildlife Refuge
Docent tours
Saturday, December 8
10:00 AM – 11:00 AM
Antioch Dunes
801 Wilbur Ave
Antioch, CA 94509
(MAP)
Every Second Saturday docents lead FREE tours of the Antioch Dunes, a National Wildlife Refuge that is otherwise closed to the public. The Dunes are home to the endangered Antioch Dunes evening primrose, the Contra Costa wallflower, and the Lange's metalmark butterfly. Put on your hiking shoes and grab your water bottle to explore the only wildlife refuge in the country that has been established to protect endangered plants and insects.