The following links are just news items and opinions that pass my desk throughout the week. I don't necessarily support or advocate any of the items, they are just interesting reads.
The Private Sector's Heartening Response to COVID-19 – There are many other remarkable developments. For instance, only a few weeks after the beginning of this outbreak in the United States, many pharmaceutical firms worked at lightning speed to develop a vaccine. Last week, the first doses of an experimental COVID-19 vaccine were administered to a group of volunteers. Many companies are hard at work trying to come up with a cure. Whether it's testing old medications to figure out if they can mitigate the virus's effects or developing new drugs, the private sector is going full speed ahead to help.
Americans, especially health care professionals, need face masks. Companies nationwide are shifting resources to produce more masks. The firm 3M, for instance, announced that it "ramped up to maximum production levels of N95 respirators and doubled our global output to a rate of more than 1.1 billion per year, or nearly 100 million per month." 3M Chairman and CEO Mike Roman added that "more than 500,000 respirators are on the way from our South Dakota plant to two of the more critically impacted areas, New York and Seattle, with arrivals expected starting tomorrow. We are also ready to expedite additional shipments across the country."
What about companies that weren't in the face mask business? A group of American apparel and textile companies like Fruit of the Loom and Hanesbrands came together almost overnight to create a medical face mask supply chain to help hospitals, health care workers, and citizens battling the virus's spread. Efforts like this abound.
It gets even better. Researchers trying to understand where best to send supplies or how to mitigate outbreaks are now being helped by Facebook's disease prevention maps that display population density, demographics, and travel patterns. As George Mason University's Tyler Cowen also explains for Bloomberg, "Skype and Zoom sessions will replace many a class, and the textbook companies are stepping forward with electronic portals that present classroom materials, interactive exercises and grade student answers."
Creativity and selflessness are on display everywhere. In Canada, an anesthetist managed to turn one life-saving ventilator into nine. In Italy, a company used its 3-D printer to manufacture much-needed ventilator valves to be used in that country's overwhelmed hospitals. These entrepreneurs then created another life-saving device. As they explain in The New York Times, they modified "a snorkeling mask already on the market to create a ventilation-assisted mask for hospitals in need of additional equipment, which was successful when the hospital tested it on a patient in need."
…So, during these depressing times, don't underestimate human ingenuity. Just keep your eyes open, and prepare to be amazed. Read More > at Reason
Hilarious thread on the Triscuit is totally the thread you need today you had no idea you needed – There was so much we didn't know about the elusive and mystical Triscuit!
Pull up a chair and learn a thing or two:
Several years ago I was at a party, and I spotted a box of Triscuits. I asked everyone, "What does the word 'Triscuit' mean? It's clearly based on the word "BISCUIT," but what does the "TRI" mean?"
The consensus was that "TRI" means three. Maybe "three layers" or "three ingredients." No one knew for sure, though, so I Googled it. But here's the thing — Google didn't seem to have an official answer, either. Just more guesses.
So we went straight to the source. We emailed Nabisco. And the response we got a few days later shook us to the core. Here it is:

I was baffled. And I couldn't stand not knowing. So I did a little sleuthing online, and stumbled on some early Triscuit advertisements. Take a look at these bad boys: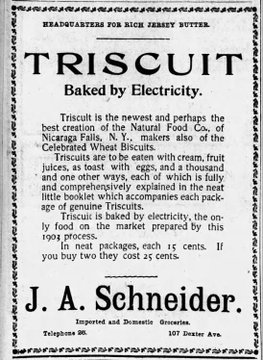 Elec-TRI-city Biscuit
TRISCUIT MEANS "ELECTRICITY BISCUIT" Read More > at Twitchy
HBO's 'Kill Chain' doc highlights the flaws in US election machines – While COVID-19 might be putting just about everything else on hold, we're still marching towards a presidential election later this year. After the high-profile interference of 2016, election security and foreign meddling are still critical issues, but many states still aren't doing enough to ensure the integrity of the process. A documentary premiering tonight on HBO proves a sobering reminder of the fragility of America's voting infrastructure.
While the matter is of grave concern across the country, Kill Chain: The Cyber War on America's Elections delves into problems with some specific machines and issues in certain states. For instance, back in 2005, security researcher Harri Hursti (a key figure in the film) demonstrated a memory card exploit that could alter votes on an optical scan voting machine. Those Diebold machines are still in operation in 20 states and are slated for use in November, the filmmakers note.
Elsewhere, a judge banned Georgia from continuing to use the vulnerable systems it had in place for well over a decade. In the wake of the contentious 2018 gubernatorial election, officials had new machines in place for this month's presidential primary. While the replacements can print paper ballots, which are important for proper vote auditing, they're still very much vulnerable as they run on Windows 7 — for which Microsoft recently ended support. Read More > at Engadget
Stuck at Home? Take Yale's Most Popular Course Ever: The Science of Happiness – One of the most buzzworthy virtual offerings available is a class called "The Science of Well Being," taught by Yale psychologist Laurie Santos. The course, which got its start on Yale's campus as "Psychology and the Good Life" in January of 2018, is the most popular class in the university's history, according to a statement. Enrollment on Coursera is currently open, and in the past two weeks, a whopping 300,000 people have signed up.
In its inaugural year, the class attracted more than 1,200 students—nearly a quarter of Yale's undergraduate population, David Shimer reported for the New York Times at the time. Floored by the interest, Santos decided to post an abbreviated version of the course, styled as a multi-part seminar series that she filmed in her home, to the online learning platform Coursera in March of the same year so it could reach a wider audience.
While Yale's annual undergraduate price tag is above $50,000, the Coursera class is free (though students can pay $49 to receive an official certificate of completion). Read More > at Smithsonian Magazine
Worried about layoffs? This map shows which California communities face the biggest job losses – California could lose about 600,000 private-sector jobs, or roughly 4.1 percent of its workforce, due to COVID-19 by summer, according to an analysis by the Economic Policy Institute, a progressive think tank.
The analysis uses estimates from Goldman Sachs and Deutsche Bank of the damage from the coronavirus to the national economy and applies them to employment numbers. It takes into account each state's relative share of employees in the leisure and hospitality and retail sectors, which may be hit particularly hard as Americans stay at home and away from stores and restaurants.
Losing 600,000 jobs would raise California's unemployment rate from around 4 percent to about 7 percent.
The analysis found that the Sacramento metro area could lose about 33,000 jobs, or about 4.2 percent of its private-sector workforce. That would rival job losses experienced over short periods during the worst of the Great Recession a decade ago.
The estimates are crude because each area has a unique mix of jobs and a different number of workers able to telecommute. Also, the full response to COVID-19, and the resulting economic impact, are still in flux.
David Cooper, one of the authors of the EPI analysis, said that job losses in places now requiring residents to shelter in place could be significantly higher in the short term than in other places.
Several researchers and market analysts are posting their own job loss projections.  Read More > in The Sacramento Bee
Concord calls halt to Bay Area's biggest development project – Concord has severed discussions with Lennar Corp. over the massive Concord Naval Weapons Station site, where the developer had planned to ultimately build up to 13,000 new homes.
Meeting remotely by video conference, the Concord City Council voted 3-2 Tuesday to reject Lennar's request to extend its exclusive negotiating agreement and will instead let the existing agreement expire on March 31.
The city and the Contra Costa Building Trades Council have been at loggerheads with Lennar for several months over how much union labor the developer would use on the $5 billion project. Lennar said the requirement to use 100% union labor would make the project economically infeasible and had threatened to withdraw if it was required to do so. Lennar (NYSE:LEN), which was selected for the project in 2016, negotiated for two years with the trades council without reaching an agreement.
The breakdown between Concord and Lennar throws the long-term future of the nearly 4-square-mile site into doubt. In addition to the 13,000 homes, Lennar's plan called for building about 6 million square feet of commercial space over the next two to three decades. Read More > at the San Francisco Business Times
Massachusetts Gov. Charlie Baker bans reusable bags statewide – Gov. Charlie Baker ordered several new measures aimed at protecting grocery store workers and customers from coronavirus on Wednesday, including a ban on reusable bags being brought into stores and suspending local bans on single-use plastic bags.
The ban on reusable bags comes after three of the state's largest communities took measures to temporarily delay or suspend bans on single-use plastic bags since last week. Worcester decided last week to delay implementation of its bag ban last week; Cambridge and Boston followed this week.
Baker said that during the pandemic, customers may not bring reusable bags into stores, and stores cannot charge for the paper and in some communities, thicker plastic bags offered by stores.
The measure had been called for last week by a supermarket trade group, the Massachusetts Food Association, which had pointed to concerns about workers coming into contact with contaminated bags. A spokesman for the organization told The Salem News Friday that it wanted to follow the example of coffee chains that had banned reusable mugs over health concerns. Read More > at The Salem News
The New Favelas – Progressives routinely denounce economic inequality, yet the nation's most liberal cities offer the most dramatic illustrations of it, with tech-driven wealth at the top and addiction-driven homelessness at the bottom. In the past five years, some streets in Berkeley, Oakland, San Francisco, and Seattle have started to resemble Latin American favelas, or shantytowns, with thousands sleeping in tents, shacks, and packing crates. One United Nations official recently compared West Coast encampments to the slums of New Delhi. California governor Gavin Newsom has declared homelessness a "state of emergency."
And yet, as the coronavirus pandemic persists, West Coast cities have legalized and provided services to these encampments, rather than enacting emergency shelter and moving people off the streets. This reckless decision follows a disturbing trend. Last year, Oakland began supplying 22 officially sanctioned homeless encampments with services, sanitation, and supplies. According to the San Francisco Chronicle, "the camps, which were once largely confined to freeway underpasses and the warehouse district . . . have now become a common sight on city streets, in parks and even in residential neighborhoods." Activists organized one homeless encampment in accordance with the principles of the Occupy Wall Street and Standing Rock protests, declaring it a radical experiment in proving that "curbside residents" have a "right to exist." The media touted the 77th Avenue Rangers, an encampment that permits children as residents, as exemplifying compassion, safety, and self-governance.
Despite their benign rhetoric of "housing our curbside neighbors," sanctioned encampments are proving disastrous—and some cities are now pushing back. Throughout Oakland, residents have complained about drugs, trash, violence, crime, and prostitution. The 77th Avenue Rangers' encampment, hailed as a model, collapsed after three people died of exposure and a "criminal element" took over the camp's governance. Mayor Libby Schaaf, who initially supported sanctioned encampments, quickly reversed course. Sanctioned encampments had "ended in fires, unhealthy conditions for residents, let alone the surrounding community," Schaaf told reporters. "From my experience, we have tried it and it has failed." Following this change in strategy, the city has embarked on a "homeless encampment crackdown," bulldozing a 30-person site under the subway tracks and shutting down a 74-person camp in the parking lot of a Home Depot. Read More > at City Journal 
The Coming Age of Dispersion – As of this writing, the long-term effects of the coronavirus pandemic remain uncertain. But one possible consequence is an acceleration of the end of the megacity era. In its place, we may now be witnessing the outlines of a new, and necessary, dispersion of population, not only in the wide open spaces of North America and Australia, but even in the megacities of the developing world. Much of this has been driven by high housing prices and growing social disorder in our core cities, as well as the steady rise of online commerce and remote working, now the fastest growing means of "commuting" in the United States.
Pandemics naturally thrive in large multicultural cities, where people live "cheek by jowl" and travel to and from other countries is a fact of international tourism and commerce. Europe's rapidly advancing infection rate is, to some extent, the product of its weak border controls, one of the EU's greatest accomplishments. Across the continent, cities have become the primary centers of infection. Half of all COVID-19 cases in Spain, for example, have occurred in Madrid while the Milan region, with its cosmopolitan population and economy, accounts for half of all cases in Italy and almost three-fifths of the deaths.
In the US, known cases and deaths are overwhelmingly concentrated in the Seattle area, Los Angeles, San Francisco, Boston, and New York. Gotham, with six percent of the US population, now accounts by itself for nearly half of the 18,000 cases in the country. Even the New York Times, a consistent booster for packing people into small spaces, now acknowledges that the city's high densities are responsible for its much higher rate of infection even than relatively dense but far more dispersed areas like Los Angeles, which is equally diverse and global but still consists largely of single family houses.
In places like New York, crowded mass transit systems remain essential to many commuters, while suburban, exurban, and small-town residents get around in the sanctuary of their private cars. These patterns can be seen in a new report by the mid-American think tank Heartland Forward (where I am a senior fellow), which shows how relatively slight the impact has been outside of a few large urban centers on the coasts. Rural areas around the world have been largely spared, at least for now. The North American hinterlands, according to health professionals, benefit from less crowding and unwanted human contact.
Living in dispersion may not save you from contagion, but being away from people, driving around in your own car, and having neighbors you know, does have its advantages in times like these. Even the urban cognoscenti have figured this out—much as their Renaissance predecessors did during typhus and bubonic plague outbreaks, wealthy New Yorkers today are retreating to their country homes where they struggle with the locals over depleted supplies of essentials. Read More > at Quillette
Fast-Charging Stations Damage Tesla Car Batteries After Just 25 Cycles, New Study Shows – A new whitepaper shows that the "fast charging" feature of many Tesla charging stations along the nation's highways may actually be doing more harm than good. These stations can subject batteries to high temperatures and high resistance that can then lead them to crack, leak and lose their storage capacity, according to Science 2.0.
Instead, the industry should be seeking out ways to charge at lower temperatures with less risk of "catastrophic damage", the study concludes.
For the first 13 charging cycles on a Tesla, battery storage capabilities remained similar between normal charging and rapid charging. But after that, the "fast charging" technique caused capacity to fade "much faster".
In fact, after just 40 charging cycles, batteries only kept 60% of their storage capacity. Batteries charged using internal resistance charging retained more than 80% capacity after the 40th cycle.
The blog then notes:
"At 80% capacity, rechargeable lithium-ion batteries have reached the end of their use life for most purposes. Batteries charged using the industry fast-charging method reached this point after 25 charging cycles, while internal resistance method batteries were good for 36 cycles."
After 60 charging cycles, the industry method battery cases cracked, exposing the electrodes and electrolyte to air, which could increase the chance of fire or explosion. Read More > at Zero Hedge 
Countdown To A Neiman Marcus Bankruptcy Filing Begins – Neiman Marcus Group and its lenders are in talks to push the luxury retailer into Chapter 11 bankruptcy, unnamed sources told Bloomberg this week.
The retailer has yet to make a definitive decision on bankruptcy, but may try to escape its $4B-plus debt burden through a court-approved bankruptcy reorganization plan, Bloomberg reports.
The idea is to use the process as a safe harbor to access liquidity in bankruptcy to keep the company going while escaping unprofitable stores and other debts strangling the retailer.
News of a possible bankruptcy filing comes on the heels of Neiman's announcing plans to shutter a majority of its 24 Last Call discount locations.
The decision to effectively end the brand's discount segment drew praise from luxury retail analysts last week. The retailer has been criticized for losing its way in the past decade by focusing on retail segments outside the brand's core luxury audience. Read More > at Bisnow
Strippers Pivot to Topless Food Delivery Amid Coronavirus Outbreak – Even before the coronavirus pandemic forced the nightlife industry to go dark throughout the country, strippers and other adult entertainers were among the first professionals to see their bottom lines take a hit as customers dwindled and practiced social distancing from the stage, as well as its performers, out of Covid-19 concerns.
Unsurprisingly, however, strippers and sex workers have also proven particularly resourceful when it comes to reinventing the industry amid a crisis that seems tailor-made to destroy it. Last weekend, Las Vegas strip club Little Darlings began hosting drive-through strip shows and nude hand-sanitizer wrestling. Now, a strip club in Portland, Oregon is putting its dancers to work in an entirely different capacity: topless food delivery.
Lucky Devil Lounge owner Shon Boulden initially pitched the idea, aptly dubbed "Boober Eats," as a joke on Twitter, Rolling Stone reported. But after receiving legitimate requests from customers, Boulden decided to put the service into action. Read More > at Inside Hook  
Women should be eligible for the draft, commission recommends – A congressionally mandated commission is recommending women should be eligible for the draft, a move that comes five years after the Pentagon opened all combat roles to women.
"This is a necessary and fair step, making it possible to draw on the talent of a unified Nation in a time of national emergency," the commissioners wrote in the 255-page report, obtained by POLITICO.
The 11-member commission's final report, which was required by the 2017 National Defense Authorization Act, was briefed to the Pentagon on Monday and will be presented to the White House and congressional staffers Tuesday.
The report does not require action, but its recommendations pave the way for lawmakers to move to include women in the draft more than 100 years after Congress passed the Military Selective Service Act in 1917. While no one has been conscripted into the U.S. military in more than 40 years, the act requires all American men to register for the draft when they turn 18. Men who fail to register can be fined, imprisoned and denied services such as federal student loans. Read More > at Politico
The Coronavirus Cover-Up – The calamity unfolding all around us did not emerge from a void. It originated in China. And its eruption into a global pandemic is inseparable from the nature of the regime that has ruled China since 1949. Had the authorities in that country intervened early to contain the fresh strain of the Chinese corona virus, COVID-19, there would likely have been 95 per cent fewer casualties. Instead, China's one-party state created the conditions for the spread of the virus. For weeks, it suppressed information and punished those who shared it.
In December, Li Wenliang, a 33-year-old ophthalmologist in Wuhan, the site of the outbreak, told his friends on a private online chat group that patients exhibiting symptoms akin to SARS—severe acute respiratory syndrome—were in quarantine at the emergency department at the city's central hospital where Li worked. When SARS first flared up China in 2003, Beijing covered up the scale of the horror for four months. The upshot of that concealment was 774 fatalities at home and abroad. Li warned his friends—all of them doctors—to be careful this time. China's internet police intercepted the exchange. And three days later, Li was berated by his bosses, accused by the police of "making false comments" and coerced into signing a statement expressing contrition for disturbing "social order".
After forcing Li to return to work, where the young doctor immediately contracted the virus, the local apparatchiks of the Communist Party of China ordered labs to stop testing and destroy the existing samples and proceeded with a potluck banquet for 40,000 families in a precinct of Wuhan. As patients proliferated, Taiwan notified the World Health Organisation before the end of December that the virus spread from human-to-human. But rather than ring the alarm bells, as late as 14 January, WHO was parroting Beijing's line that there was "no clear evidence of human-to-human transmission". The genome of the virus, mapped as early as 2 January, was withheld from the world for a week. Information that might have averted a global catastrophe was studiously suppressed. And by the time President Xi Jinping properly acknowledged the crisis, on 20 January, three people had died. That number rose to above 200 by the end of the month. Li died in early February.
Once the virus made its inevitable outward march, claiming lives beyond China's borders, the CPC mounted a major public relations exercise that exploited common human decencies to evade accountability. Criticism of the Chinese government was equated with racist prejudice against ordinary Chinese people. The result: rather than confront China, precious energies were exerted to avoid the trap set by China. In February, the Mayor of Florence launched a campaign encouraging Italians to "hug a Chinese", describing it as a "fight of solidarity and unity against virus". The People's Daily, a mouthpiece of the CPC, applauded young Italians advertising their virtuousness on the Internet with photos of themselves hugging Chinese tourists without mentioning a word about the mortal perils of human contact. Read More > at The Critic
Doctors Without Borders – On March 13, the Trump administration waived the requirement that medical professionals who bill Medicare and Medicaid be licensed in the state where they provide services (providing that they have an equivalent license in another state). Known as an "1135 waiver," this action allows local health authorities to respond quickly during emergencies, without worrying about whether providers will be paid for their services. But this salutary move doesn't eliminate other licensing barriers that prevent physicians from helping in areas hard hit by the coronavirus, and which impede the development of tele-health services that could help combat Covid-19.
Medical needs associated with national emergencies tend to be distributed unequally, and that's true in this crisis, too. American coronavirus cases are currently concentrated in the Pacific Northwest and around the New York City metropolitan area. As a result, hospital systems in these places are beginning to feel the pressure of shortages of medical supplies, intensive-care equipment, and trained personnel.
Regulatory barriers that keep physicians from practicing across state lines make matters worse. Physicians are licensed by state medical boards, which are responsible for verifying the doctors' competence, qualifications, and character, and are empowered to discipline those who violate rules with fines or even the revocation of licenses. Most physicians are licensed to practice only in a single state. In 2018, only 14 physicians across the country—out of almost 1 million—were licensed to practice in all 50 states. States can facilitate treatment of patients in emergency situations, and a patchwork of some 200 interstate medical-licensing compacts helps to some degree. But these arrangements have been enacted inconsistently and often still impose significant burdens.
Physician licensing by states was established in the nineteenth century, when medical science was rudimentary and clinical standards were inconsistent. The system was not designed for an era of federal insurance regulations and national medical entitlements, when many physicians move across state lines at some point in their careers. By obliging physicians to acquire an extra license to practice in every state where their patients might be located, state licensing also makes it hard to scale up tele-health. This concern is less relevant to emergency care but may restrict primary-care doctors from seeing patients stuck at home during the coronavirus—and could restrict the ability of mental-health professionals to meet surging demand for their services across the country. Read More > at City Journal
Violin concerto no. 1 composed by Alma Deutscher, and performed in July 2017 at the Carintischer Sommer Festival.
Vienna Chamber Orchestra, conductor: Joji Hattori.
I – Allegro maestoso 0:21
II – Romanza 15:37
III – Allegro scherzando 24:32
Scientists Are Turning Bacterial Cells Into Factories for Building Materials – Buildings are not unlike a human body. They have bones and skin; they breathe. Electrified, they consume energy, regulate temperature and generate waste. Buildings are organisms – albeit inanimate ones.
But what if buildings – walls, roofs, floors, windows – were actually alive – grown, maintained and healed by living materials? Imagine architects using genetic tools that encode the architecture of a building right into the DNA of organisms, which then grow buildings that self-repair, interact with their inhabitants and adapt to the environment.
Living architecture is moving from the realm of science fiction into the laboratory as interdisciplinary teams of researchers turn living cells into microscopic factories. At the University of Colorado Boulder, I lead the Living Materials Laboratory. Together with collaborators in biochemistry, microbiology, materials science and structural engineering, we use synthetic biology toolkits to engineer bacteria to create useful minerals and polymers and form them into living building blocks that could, one day, bring buildings to life.
In one study published in Scientific Reports, my colleagues and I genetically programmed E. coli to create limestone particles with different shapes, sizes, stiffnesses and toughness. In another study, we showed that E. coli can be genetically programmed to produce styrene – the chemical used to make polystyrene foam, commonly known as Styrofoam. Read More > at Real Clear Science 
What Happens When Everything Stops? – As I've been thinking about what to do during our lockdown, I keep coming back to Jane Austen's Pride and Prejudice. I think about the book a lot, but lately more than ever. I'm struck lately by the vigorous family social life in the homes at night. Yes, there are balls, which are definitely out for us right now. But every night the families gather for dinner, they talk, and then afterward people head to the parlor to read, play games, or play music. There's even a scene in which Jane Bennett, the eldest sister, falls ill and is quarantined at Netherfield, the home of her future husband, Mr. Bingley.
The point is they built deeper relationships with each other because they spent time doing things together and enjoying each other's company. That's what we all say we want. Now is the time to do it.
We must resist the temptation to "go 2D"—that's what we call getting sucked into a screen. It's horrible and anti-social. But by all means, use FaceTime or Skype to keep in contact with friends and family members, especially people who may be alone, lonely, or anxious. Be intentional about it. They will appreciate it. Those of us cooped up with family for the next few weeks might find that we start to irritate each other from time to time, but that's far better than the loneliness others are probably facing. Think of them.
…Our ordinary lives and routines have been upended, but let's see that as an opportunity to do some good even as we grapple with the very real challenges we're all facing. It only seems like everything stopped. Life goes on. Read More > at American Greatness
So You've Run Out of Toilet Paper. What Else Will Flush? – Here's the Golden Rule of Flushing: "If you wouldn't put it down your garbage disposal, don't flush it," Jim Ervin, who worked as a compliance manager at the San Jose-Santa Clara Regional Wastewater Treatment Facility for 27 years, tells Popular Mechanics.
Multiple experts agree the only things you should actually flush down your toilet are pee, poop, vomit, and toilet paper.
But what about paper towels or napkins?
No. Even though they're a close substitute for toilet paper, experts don't recommend flushing them.
How about rags or hand towels?
Sorry, no.
Socks or sponges?
Nope.
Well, why not?
Because flushing all of these items "can clog the sewer lines going from [your] home or apartment and cause [the] sewer to back up into [your] home through sinks, showers, toilets, dishwashers, and washing machines," Jennie Loft, a public information officer for the San Jose-Santa Clara Wastewater Treatment Facility, tells Popular Mechanics via email. Read More > at Popular Mechanics
Needed: the reopening plan. Fast. – A trillion bucks is a lot of money. The costs of shutting down the economy are larger. California's GDP is essentially zero at the moment. US GDP was about $22 trillion per year before the virus hit, almost $2 trillion per month.
Shutting everything down and staying home for a few weeks is a sledgehammer. OK, our leaders have to hit a virus with a sledgehammer when they have nothing else up their sleeve. But it cannot last. Businesses will close, people will lose jobs, the economy will not be there to start up again.
Needed fast: a plan to open up the economy again in a virus-safe way. Every business should be (and likely is) working hard to figure out how to operate in a virus-safe way. Federal state and local government need to be working 24 hours a day during the next few weeks to promulgate virus-safe practices. Not because they are particularly good at it, but because they are the ones shutting things down, and their permission is needed to reopen, fully or partly. People also will want the confidence to know that businesses they patronize are compliant. You've got two weeks — figure out what combination of personal distancing, self-isolation, testing, cleaning, etc. will allow each kind of business to reopen, at least partially.
The option to force everyone to stay home and close all "non-essential" business for three or six months is simply not viable, at least for a disease something short of the bubonic plague. The option to wait two or three weeks and then start thinking about what it takes to allow, say, the local dry cleaner to reopen, which will take another month or so, is simply not viable.
Take two weeks. Find out who has it and who doesn't. Test test test. Isolate, put out the embers. And reopen. Slowly, cautiously, partly. But reopen. Read More > at The Grumpy Economist
Astronomers have found the edge of the Milky Way at last – Our galaxy is a whole lot bigger than it looks. New work finds that the Milky Way stretches nearly 2 million light-years across, more than 15 times wider than its luminous spiral disk. The number could lead to a better estimate of how massive the galaxy is and how many other galaxies orbit it.
Astronomers have long known that the brightest part of the Milky Way, the pancake-shaped disk of stars that houses the sun, is some 120,000 light-years across (SN: 8/1/19). Beyond this stellar disk is a disk of gas. A vast halo of dark matter, presumably full of invisible particles, engulfs both disks and stretches far beyond them (SN: 10/25/16). But because the dark halo emits no light, its diameter is hard to measure.
Now, Alis Deason, an astrophysicist at Durham University in England, and her colleagues have used nearby galaxies to locate the Milky Way's edge. The precise diameter is 1.9 million light-years, give or take 0.4 million light-years, the team reports February 21 in a paper posted at arXiv.org. Read More > at ScienceNews
Why have so many coronavirus patients died in Italy? – The coronavirus pandemic is exacting a heavy toll on Italy, with hospitals overwhelmed and a nationwide lockdown imposed. But experts are also concerned about a seemingly high death rate, with the number of fatalities outstripping the total reported in China.
Of the 47,000 people confirmed coronavirus patients in Italy, 4,032 so far have died – with a record increase of 627 in the last 24 hours.
By contrast China has almost twice as many cases, 81,250, but 3,253 fatalities.
In very crude terms, this means that around eight per cent of confirmed coronavirus patients have died in Italy, compared to four per cent in China. By this measure Germany, which has so far identified 13,000 cases and 42 deaths, has a fatality rate of just 0.3 per cent.
So why the disparity?
According to Prof Walter Ricciardi, scientific adviser to Italy's minister of health, the country's mortality rate is far higher due to demographics – the nation has the second oldest population worldwide – and the manner in which hospitals record deaths. Read More > in The Telegraph
Why Zoom has become the darling of remote workers during the COVID-19 crisis – With people across the country stuck indoors as the coronavirus spreads, they're turning to video calls to chat with friends, family members, colleagues, classmates and customers. There are any number of free services at their disposal, but Zoom is increasingly the one they're choosing.
Zoom sits atop Apple's rankings of the most popular free apps in dozens of countries, according to data from analytics company App Annie. Investors love it, at least for the moment. The stock sells for 58 times revenue, compared to a price-to-sales ratio of 8 for Microsoft, and it's gained 26% since Feb. 19, while the S&P 500 has plunged 32% over that stretch.
The question is: Why Zoom?
Zoom is known for its reliability, avoiding long outages that discourage repeated use, and it doesn't have the latency that makes some services painful for extended conversations.
Unlike Apple's FaceTime for iOS, Zoom is also available on Android and on any laptop. It's also designed to make IT departments comfortable, and people can start video calls for free, as long as they're kept under 40 minutes and below 100 participants.  Read More > at CNBC
California Is the State with 2020's 5th Most Medicaid Coverage – WalletHub Study – With the Trump administration unveiling an overhaul of Medicaid, healthcare playing a big role in the 2020 election and coronavirus testing being covered by Medicaid, the personal finance website WalletHub today released its report on 2020's States with the Most & Least Medicaid Coverage (along with accompanying videos).
Medicaid Coverage in California (1=Most, 25=Avg.):
14th – Total Medicaid Spending Per Low-income Population
19th – Adult Care Quality
7th – Total Medicaid Spending as Share of State Budget
4th – Total Medicaid Enrollment per Low-income Population
For the full report, please visit: Read More > at WalletHub